Multiple Assessment Methods are possible now!
Curriculum Developers can now select additional Assessment Methods in their unit plans. However, the methods indicated in the new Additional Assessment Methods field are not included in the Assessment Methods report, or Standards Analysis report. To learn more about building assessments in the unit planner, click here.

Atlas 10 is here!
An updated and modernized Atlas has been released. That means a smoother experience, better accessibility, and it's ADA compliant (video here).
The changes include:
Simplified top navigational menu
Some of our navigation menu items are condensed, renamed or relocated:
Develop is now under My Atlas, and renamed to My Courses.
References and Browse are under All Curriculum.
Support menu can be accessed by clicking the life-saver icon next to your account name.
Search can be accessed by clicking the magnifying glass in the Search bar. The search box is available in every page of Atlas.
Updated Atlas Dashboard
My Dashboard now supports 4 panels at the same row, with the ability to resize the Atlas pre-created panels. Click here to learn more about managing and personalizing My Dashboard.
Updated Atlas Login Page
Now you can submit your Email and Password in one single step.
Review Lessons in the Lesson Portal!
Now you can share your lessons for review by one or more colleagues from the Lesson Portal, supporting your peer or leadership review process!
When a lesson is submitted, reviewers get a notification in Atlas, or via email, depending on their notification settings. During their review, they may leave private comments (visible to reviewers and lesson authors) about things they like, questions or suggested improvements. Once the review is complete, any reviewer can mark the lesson as Reviewed. For more details, visit our Lesson Portal page, and take a look at Lesson List View and then the Submit Lesson for Review and Review a Lesson sections!
Enhanced Comments!
New and intuitive commenting and discussion feature is available in Atlas now. They can be added to any map, units, lessons, and saved reports. Users can reply to comments, add attachments, and more! Click here to know the details.
Note: Comments have replaced Notes & Discussions in Atlas. Discussions have been moved into the Comments section (visible to all atlas users) and Notes have been moved into the Private Comments section. If you have any questions about this, contact us at support@onatlas.com.
The Lesson Portal
You asked and we listened! The lesson portal is a central place for all the lessons you own, and co-author. Two different views, Lesson Calendar view where you can track your lessons on the academic calendar, and a Lesson List view where you can manage all your lessons. Click here to learn more!

Curriculum Process Assistant!
Managing the processes you follow in Atlas shouldn't be a struggle! With Atlas' Curriculum Process Assistant, you can create custom workflows to keep your team on the same page, streamline your process, and gain visibility at every stage. Click here to learn more!

Draft Units are Here!
Now Curriculum Developers can mark their in-progress units as drafts. Draft units can only be seen by the Curriculum Developers, or users with editing privileges, for a particular course. As these are drafts, they are excluded from all Atlas Reports except Search > Activity, so you can still track progress made in these units. Click here to learn more about how to flag your units as drafts, in the guide Create a Draft Unit.
Prioritize Standards within a Unit!
Now Curriculum Developers can identify Priority and Supporting standards at the unit level! How does it work? First, Atlas system admins need to create the flags in Atlas, then all curriculum developers can start flagging standards in their units! If you're a system admin, click here to learn more about creating the flags in your Atlas. If you're a curriculum developer, click here to learn more about flagging the standards at the unit level. Click here to know what reporting capabilities come with it!
Collaborative Lesson Planning
Users can invite others to collaborate on lessons they create across all grade levels and disciplines. This makes cross-disciplinary collaboration a breeze! Click here for more details.
Copy Lesson Plans
You asked and we listened! Now you can copy any lesson into any unit assigned to you. Our user-friendly Copy Lessons modal window allows you to copy multiple lessons into multiple units at the same time! Click here for more details.
A Recycle Bin for your Lessons
Now you can restore deleted lessons to your My Lessons list.

Role-Based Privileges
Atlas now distinctly identifies the roles of "Curriculum Developer" and "Teacher" with this new feature! Admins can name "Teachers" vs. "Curriculum Developers" on every curriculum map. These are the capabilities that come with each role:
| | | |
| --- | --- | --- |
| | Curriculum Developer | Teacher |
| View the Assigned Unit Plans | √ | √ |
| Edit the Assigned Unit Plans | √ | X |
| Create Lesson Plans | √ | √ |
| View collaborator Lesson Plans | √ | √ |
Enhanced "My Courses" Dashboard Panel
Now, with the "My Courses" dashboard panel, a user (Curriculum Developer, or Teacher) is only one click away from:
Access to any unit for the courses they are assigned to.
Viewing all lesson plans for any units in their courses.
Creating new lesson plans (if the "Lesson Plan" feature is turned on).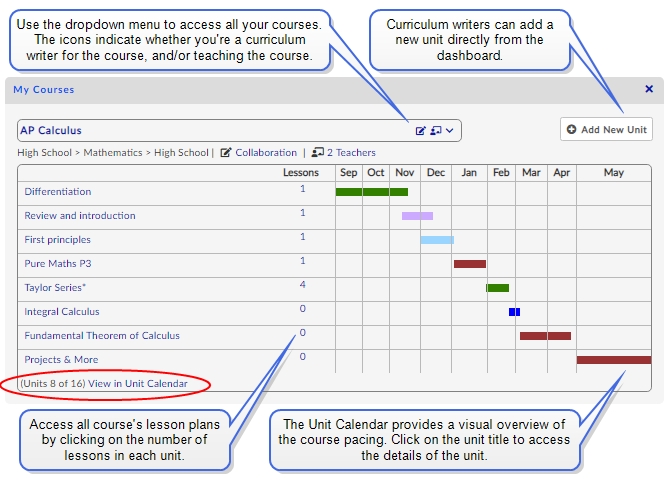 Atlas and ManageBac Integration
We are delighted to announce the first phase of our Atlas curriculum integration with ManageBac available from May 2019.
This integration allows mutual Atlas & ManageBac schools to collaboratively plan and edit Atlas units directly within ManageBac classes with single-sign-on. No data migration is required and existing Atlas courses & Subjects can be easily mapped to your ManageBac classes in a day or less.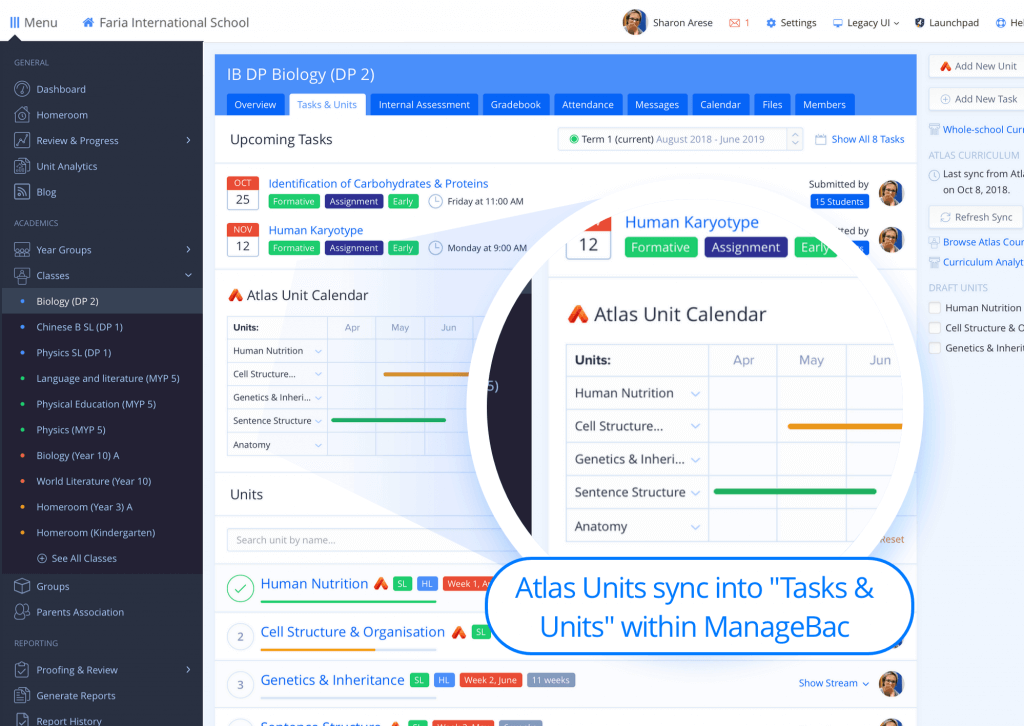 With the integration enabled, Curriculum Developers will be able to seamlessly add, browse, and edit Atlas units directly within their ManageBac class. To learn more, feel free to check out our resources hereunder:
Admin Creates Lesson Planner Templates
In Atlas, users save time by creating lesson plan templates that they can reuse. Now Admins can design lesson plan templates that any user can access and apply to new lessons!
Up to eight active admin-created templates are supported per site.
An unlimited number of draft templates are supported. Draft templates are marked as "inactive."
Our new Rich Text Editing tool supports tables to be included in lesson templates.
Admin-managed templates are prefixed with a schoolhouse icon, so it's easy for users to distinguish them from templates they created.
Want to learn about our future releases? Click here to see Atlas Road Map!